Expand your audience by creating an exciting contest that anyone can enter. Everyone loves the idea of ​​being a winner – allow it to become a reality for someone. It could push your artist name to new levels.
PUSH.fm is a platform that offers marketing tools for all levels of creation. From smart links to pre-save and reward links, you can attract and engage new audiences with a variety of features. Both a Free plan and a Premium plan are offered, but the latest introduction saw an extension of the Premium option.
---
What are Contests?
Note: Competitions are a Premium feature, so your account must be updated before you can access them.
Competitions are a brand new feature of the Premium plan. You can create your own, set the rules and choose the price. Your audience has the opportunity to participate in the contest for free. Everyone wins. Your accounts get a follower boost, whether it's social media or your music accounts, and your fans get a chance to win a prize.
Setting up your competition is really easy. Simply enter a title and description to let your fans know what they could potentially win. Add yourself an exciting image that will draw people to your contest, and set a date and time for it to end. People will be able to enter until the closing date. Then it's up to you to choose a winner.
Your audience will need to complete the tasks presented to them for their participation to count. They can, however, participate as many times as they wish (provided they have multiple accounts from which to participate). For example, if your tasks are to follow you on one of your artist pages in music stores and your fans have an account on both Apple Music and Spotify. They could enter through both accounts. Double your chances of winning.
---
Why competitions could benefit musicians
Not only do competitions engage your audience, they also help them grow. Being with a chance to win a prize without having to pay anything will attract a lot of people. So there is potential to grow your audience through this. Your artist pages will see an increase as you define the tasks.
As an artist, you can request that all entries follow you on any of your streaming accounts. If you get 20 entries, that's 20 new accounts following your music. That means the next time you go out, you'll have even more ears to listen to your new tunes. You might end up with a whole new fanbase.
It's not just music platforms where you can ask to be followed. Instead, you can put the social media option in your contest. This will once again be great for your growth. You will not only get new followers on these platforms. You will also get shares and likes as you can ask entries to retweet or share your posts.
The more shares, likes, followers you get, the more your artist name grows overall. People can't resist entering a contest, especially when it's free. You are likely to have many new faces coming in hoping to be the lucky winner. Once they start interacting with you, it's much easier to keep them interested.
---
How to create your own contest
Note: You will need to contact the winner yourself. PUSH will not pick a winner for you.
1. If you haven't created a PUSH.fm account yet. You will need to head to the platform, register and then Upgrade Your account. Your account can be upgraded by scrolling down your dashboard and choosing the upgrade account option. See pricing tiers above.
2. Once configured, click the pink plus icon in the upper left corner. Select Competition from the menu. Next, you will need to enter a competition title. Note that this is the first thing everyone will see, so make it appealing.
3. Add a description, telling your fans what they could win. Maybe they get an item of your merchandise, or maybe a personalized video. Think about how you would like to reward the lucky winner and let them know in the description.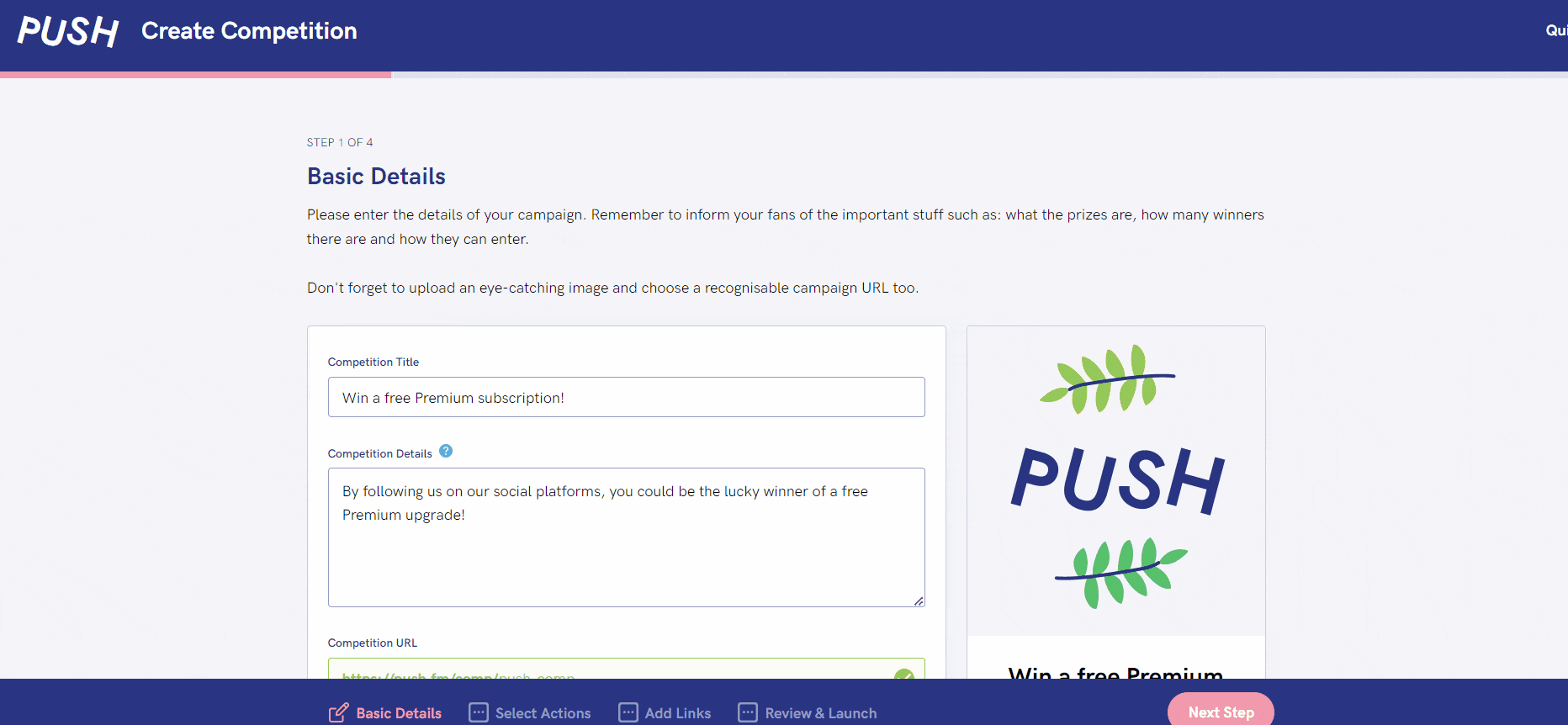 4. Choose a photo that represents you. Will it be the price? Or, maybe an artist's image. Don't forget to customize your URL here too. This will be the link available to everyone who enters your Contest.
5. The next most important part is choosing your end date and time. Give your fans enough of a chance to participate, but don't leave them too long or people might forget it happened. You can even run it online with a new track version.
6. Once everything is set, you need to start adding your actions. These are the tasks that must be completed to enter. As a musician, chances are you'll want entries to follow your artist pages, so be sure to attach your streaming accounts here.
Each store or platform has its own list of interactions. Choose the ones that suit you best. For example – Twitter lets you select follow, retweet or tweet. It's your choice what you go with.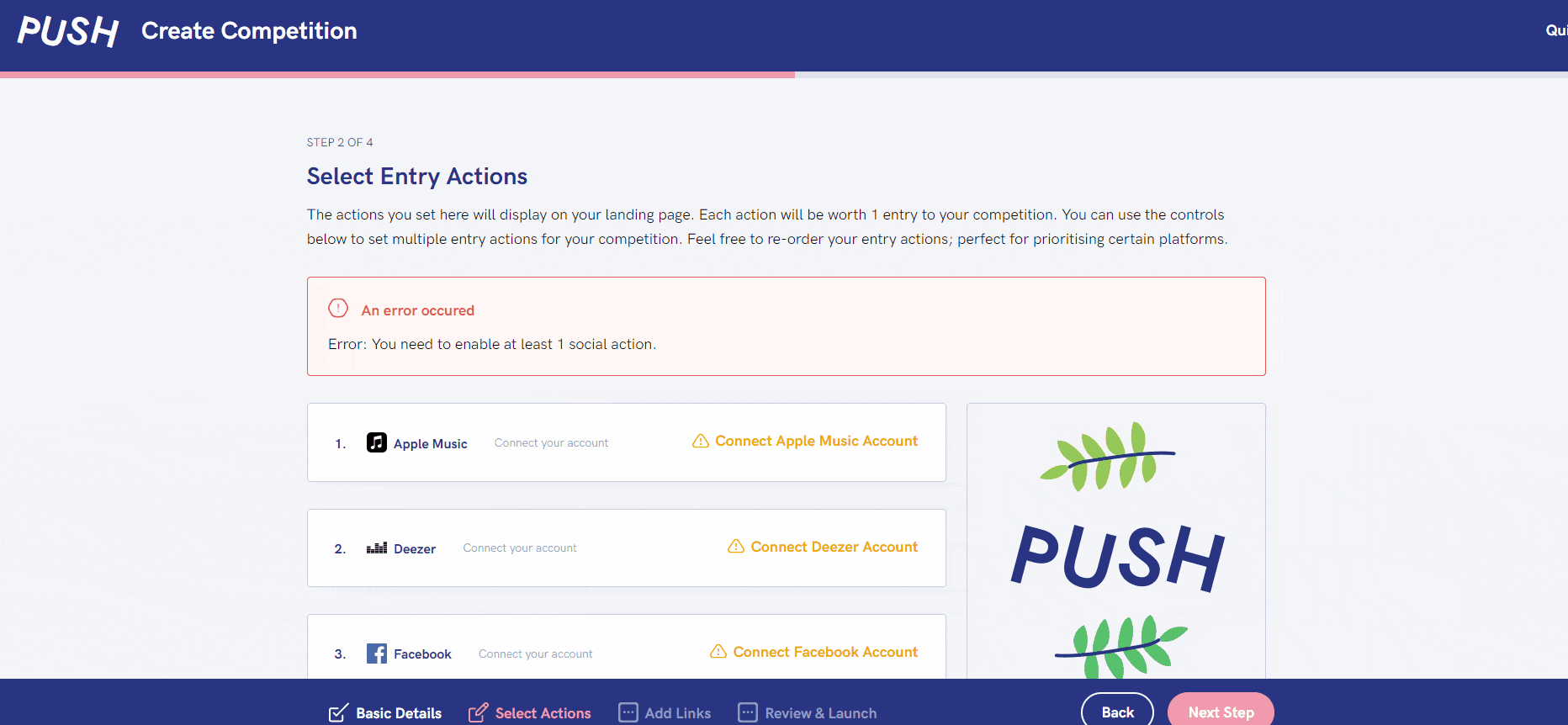 7. The last step is to add additional links. These will be links that will appear at the bottom of your Contest throughout the process. These are not optional tasks, but rather links that entries can visit. It could be a link to your latest music video on YouTube, or maybe you want to include a link to a specific website.
8. Once the tasks are completed, these links will remain. They will still be available on your homepage even after the Contest ends. That's why they're a great place to showcase anything you want people to see additionally. If your link looks great, you're good to go!
9. Launch your contest and start sharing it widely. The more you share the link, the more entries you will get. Sit back and watch your numbers increase. But be prepared for the end of the Competition. Once the contest is over, you will receive a reminder email.
10. It is then up to you to select your winner. This can be done by going to your account, clicking on the contest and pressing the pink Select the winner button. A CSV file will be downloaded with everyone entered included. Use a random generator to select your winner, contact him and send him his prize!
---
Head over to PUSH.fm now to get started!