While brainstorming a scene to showcase the revolutionary capabilities of the Omniverse platform, some NVIDIA artists turned to a treasured memory: enjoying ramen together at a family-run shop on a side street in Tokyo.
Pots of simmering noodles, steaming dumplings, humming kitchen appliances, warm ambient lighting and gleaming black stools. These were all simulated in a true-to-life virtual world by nearly two dozen NVIDIA artists and freelancers around the world using NVIDIA Omniverse, a 3D design collaboration and world simulation.
The final scene – made up of over 22 million triangles, 350 unique textured models and 3,000 4K resolution texture maps – welcomes viewers to a virtual ramen shop featured in last month's GTC keynote. by NVIDIA Founder and CEO Jensen Huang.
The enticing demo was created to showcase Omniverse's real-time rendering and physics simulation capabilities powered by NVIDIA RTX, which scales performance and speed when running on multiple GPUs.
It's a feast for the eyes, as all parts of the demo are physically accurate and photorealistic, from kitchen appliances to order forms; shoyu ramen and chashu pork; stains on pots and pans.
"Our team members were hungry just looking at the renders," said Andrew Averkin, senior art director and lead environment artist at NVIDIA, during a GTC session offering a behind-the-scenes look at the making of the Omniverse ramen shop.
The session, presented by Averkin and Gabriele Leone, Senior Art Director at NVIDIA, is now available on demand.
Gather Ingredients for Reference
The team's first step was to gather the artistic ingredients: visual references on which to base the 3D models and scene props.
An NVIDIA artist visited a real ramen restaurant in Tokyo and collected over 2,000 high-resolution reference images and videos, each capturing aspects of the kitchen's distinct areas for cooking, cleaning, preparing food and storage.
Next, prop makers modeled and textured 3D elements for everything in the store, from stoves and refrigerators to gas pipes and electrical outlets. Even the nutrition labels on bottled drinks and the ticket machine buttons from which visitors order meals have been accurately reproduced.
In just two months, NVIDIA artists around the world modeled 350 unique props for the stage, using a range of design software including Autodesk Maya, Autodesk 3ds Max, Blender, Maxon Cinema 4D and Pixologic Zbrush. Omniverse connectors and Pixar's Universal Scene Description format allowed models to be seamlessly integrated into the Omniverse Create application.
"The best way to think of Omniverse Create is to think of it as a world-building tool," Leone said. "It works with Omniverse Connectors, which allow artists to use the third-party apps they're familiar with and seamlessly connect their work in Omniverse, taking creativity and experimentation to new levels."
Add lighting and texture trim
The artists then used Adobe Substance Painter to texture the materials. To make the props look like they're in everyday use, the team concocted details like dents on wooden countertops, stickers peeling off appliances, and sauce stains on pots and pans.
"Some of our artists went so far as to cook some of the recipes themselves and take references from their own pots to get a good idea of ​​how sauce or burnt stains might build up," said Averkin.
Omniverse's simulation capabilities allow light to reflect off glass and other materials with true-to-life physical precision. Additionally, real-time photorealistic lighting rendered in 4K resolution created an orange warmth inside the cozy virtual store, contrasting with the rainy atmosphere that can be seen through the windows.
The artists used Omniverse Flow, a fluid simulation Omniverse extension for smoke and fire, to bring the restaurant's steaming pans and plates to life. SideFX Houdini software helped animate the boiling water, which was eventually fed into the virtual kitchen using an Omniverse connector.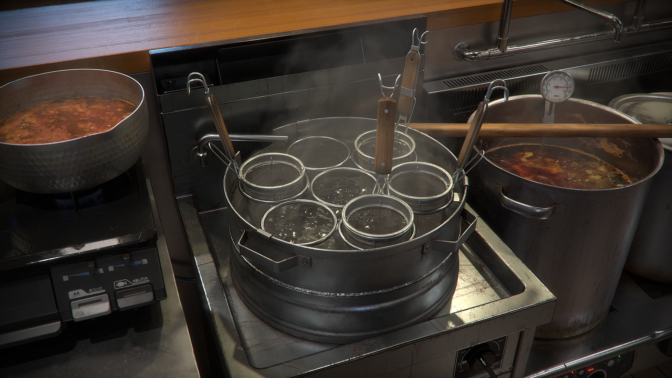 And Omniverse Create's camera animation feature allowed artists to capture the final plotted scene in real time, exactly as viewed through the window.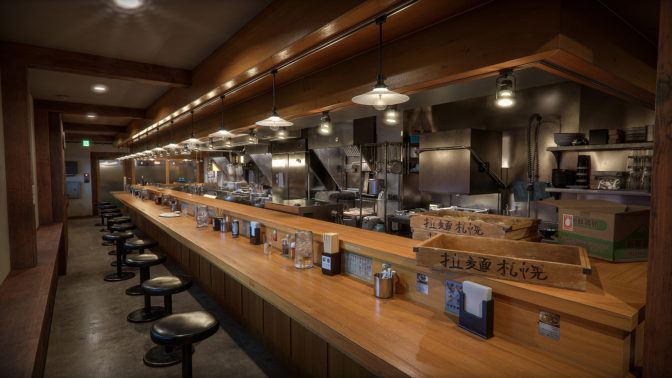 Learn more about Omniverse by watching additional on-demand GTC sessions – featuring visionaries from the Omniverse team, Adobe, Autodesk, Epic Games, Pixar, Unity and Walt Disney Studios.
Take part in the creation
Creators around the world can download NVIDIA Omniverse for free, and enterprise teams can use the platform for their 3D projects.
Join the #MadeInMachinima contest, which runs until June 27, for a chance to win the latest NVIDIA Studio laptop.
Connect your workflows to Omniverse with software from Adobe, Autodesk, Epic Games, Maxon, Reallusion and more.
To follow Omniverse on instagram, Twitter, Youtube and Medium for additional resources and inspiration. Discover the Omniverse forums and join our Discord Server to chat with the community.