Today is the start of a long-awaited cruise: a 7-night Greece and Adriatic cruise on Rhapsody of the Seas! During the next week I will visit the ports of Mykonos, Chania and Zakynthos (Greece), Kotor (Montenegro) and Split (Croatia).
I've wanted to visit Greece and the Adriatic for years, so I made sure to pick the most port-friendly route I could find. While the Rhapsody of the Seas may be one of Royal Caribbean's oldest and smallest ships, it is able to fit into many ports inaccessible to larger cruise ships.
I've never been on a Vision class ship before (the smallest I've sailed on is the Voyager class) so I'm interested to see how the cruising experience can differ on the smaller ones ships.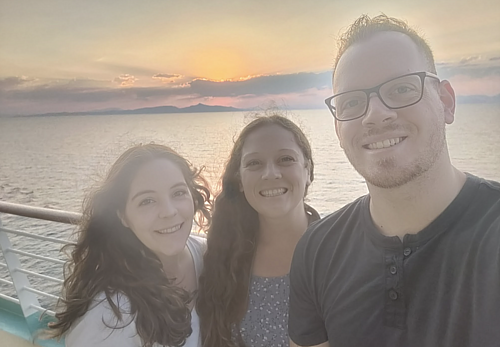 My sister Lauren and my brother Dominic are traveling with me on this cruise! Lauren came with me on my very first Royal Caribbean cruise, and this is Dominic's first cruise. Three years have passed since our last "sibling trip" to Italy, so we are happy to be back in Europe together this year!
Just completed a 7 night cruise on Anthem of the Seas last week (check out the live blog here). After two days in London sightseeing and watching the Harry Potter film set, it was time to fly to Athens for my next cruise!
Arrival in Athens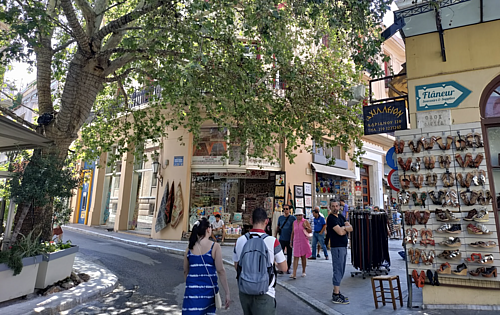 We arrived in Athens on a flight from London yesterday afternoon. When we arrived we had to take a Covid test at the Athens airport. Greece has strict testing protocols in place for cruises; telehealth tests are not accepted and your test must be taken just 1 day in advance. These protocols are much stricter than any others I have encountered so far, and flying to Greece not knowing if I would get there on a cruise or not was very stressful!
Athens airport has a Covid testing site with results ready in 20 minutes. Each rapid antigen test costs €20. Luckily all the tests were negative!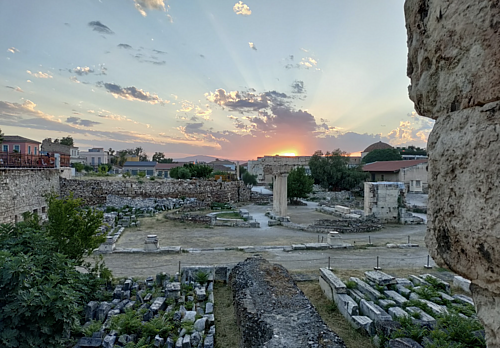 We stayed in an Airbnb in the Plaka area of ​​Athens, which had stunning views of the Acropolis and nearby mountains. The neighborhood was touristy, but it was nice and walkable with lots of shops and restaurants right outside the door.
Boarding in Athens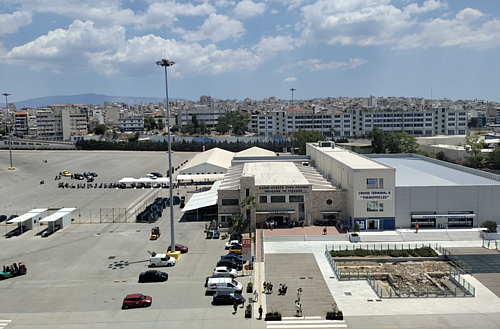 We took a taxi from our Airbnb to the port, which took about 20 minutes with traffic. I mistakenly put directions to "Piraeus port" and not directly to the cruise terminal, so I had to take a second taxi to cruise terminal B. I used Uber to order the taxis, which seems to be how Uber operates in Athens.
Upon arrival at the terminal, we dropped off our bags and went through the brief security check. Upon entering the waiting area, we were handed a colored slip that told us when we could board the ship. Arrival times were not verified and we waited about 15 minutes for our color to be chosen.
This was followed by another room where our vaccination certificates and passports were again checked. This was the most thorough document check I have ever experienced, with the Greek authorities carefully checking our documents and vaccination dates.
After about 10 more minutes, it was finally time to board!
First impressions of Rhapsody of the Seas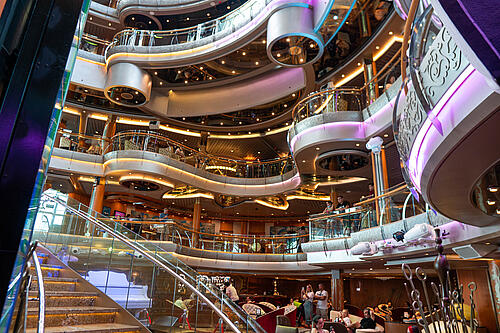 By now I have a pretty good understanding of the layout of most Royal Caribbean ships, but since the Vision class does not follow the new Royal Caribbean design, I was a bit lost once on board and had to keep checking the deck cards!
Our first stop was the Windjammer for a classic Royal Caribbean embarkation day buffet lunch. I was a little surprised to see no hand sanitizer apps (there are no hand washing stations on Rhapsody, just hand sanitizer).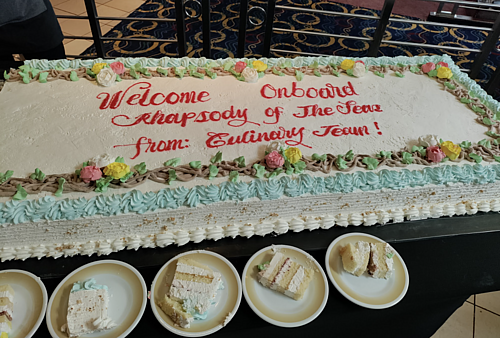 We plan to eat at free places every day on this cruise and save our money for a nice lunch each day in port instead!
The cabins were ready at 1:30 p.m. I am staying in an inside cabin on this cruise and the bed was separated into two twin beds which increased the living space and made the room feel more open. Because Rhapsody of the Seas is an older ship, I was worried the cabin would feel extremely old and outdated.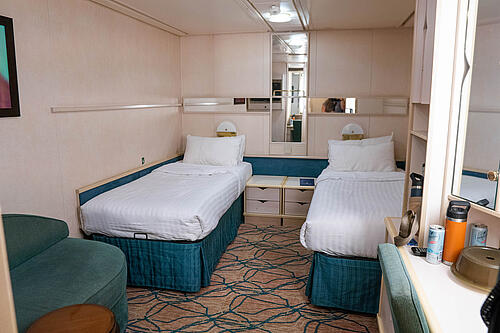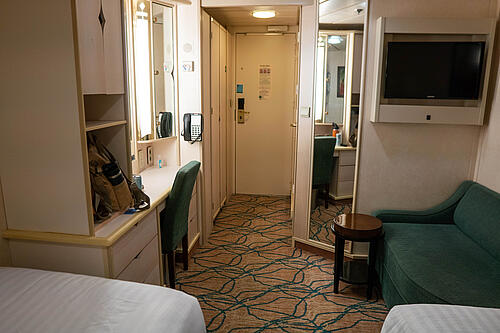 Although the cabin doesn't look as new as a ship like Harmony or Odyssey of the Seas, I was pleasantly surprised at the amount of storage and space in the room. The cabin actually looks a bit more modern than the cabins I've had on some Voyager and Freedom class ships.
I explored the ship for the rest of the afternoon. Vision class ships do not have a royal promenade. Instead, the ship has the Centrum as the main meeting point on the ship, a multi-story lobby that houses venues like a cafe, the art gallery, Next Cruise, Guest Services, and more. I listened to a bit of a live violinist, which I had never seen on Royal Caribbean before!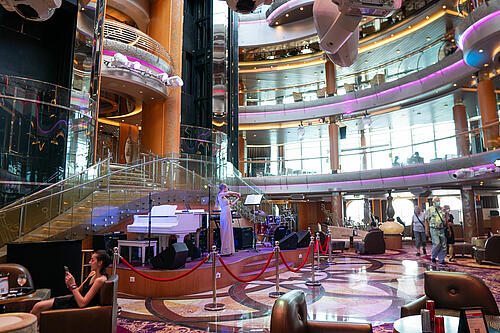 The solarium is magnificent and decorated with hieroglyphics. Ancient Egyptian design is integrated into the pool and spa areas at Rhapsody of the Seas. I also checked out the Vitality Spa & Fitness Center. The Rhapsody's spa seems huge considering the size of the ship! It had the most beautiful relaxation room I have ever seen on any ship.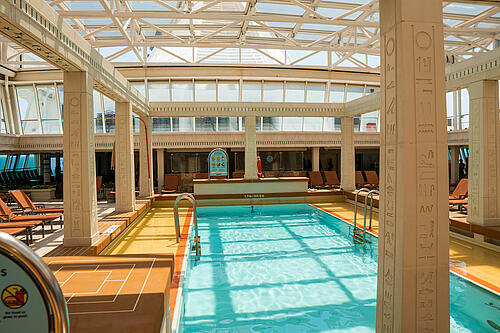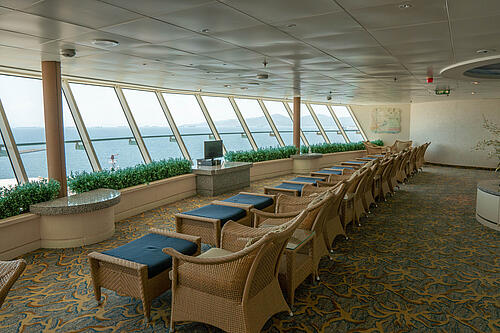 While at the fitness center, I unexpectedly met the captain of Rhapsody of the Seas. Guess those things have to happen on a smaller ship!
Evening on board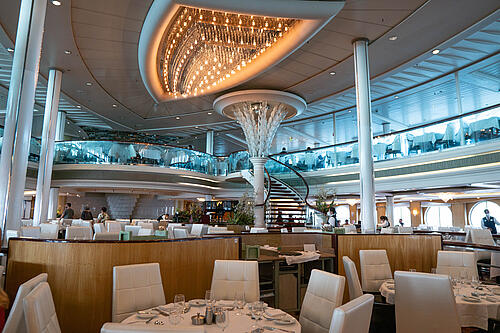 We enjoyed dinner tonight in the Main Dining Room, also known as the Edelweiss Dining Room on Rhapsody of the Seas.
I love the look of Rhapsody's dining room, a two-story room with lighted artwork and a piano in the middle. We have a beautiful table location with a view of the entire dining room and windows.
I started my meal with French Onion Soup, which quickly became my favorite dish on board. This is delicious! For my main course I ordered the polenta and for dessert the warm chocolate hazelnut cake. Everything was well prepared and it was the perfect way to start our week long cruise.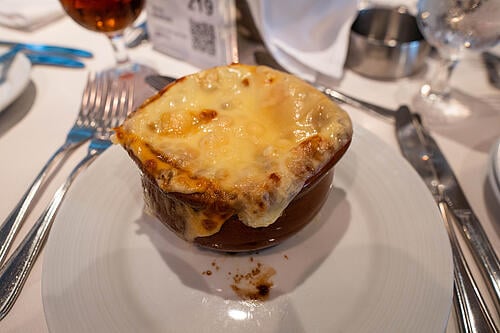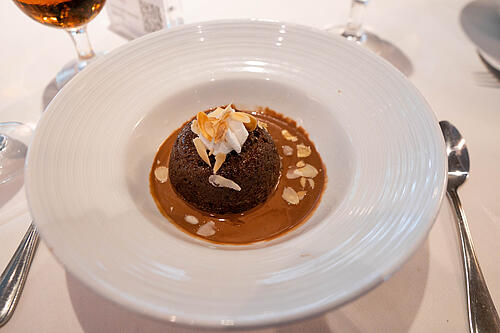 Because we had missed the navigation, we took an after dinner stroll along the Promenade Deck to take in views of the beautiful Greek coastline. I hadn't realized how mountainous the coast would be and it was beautiful! The weather was also perfect, especially considering the cold sea days last week on Anthem of the Seas.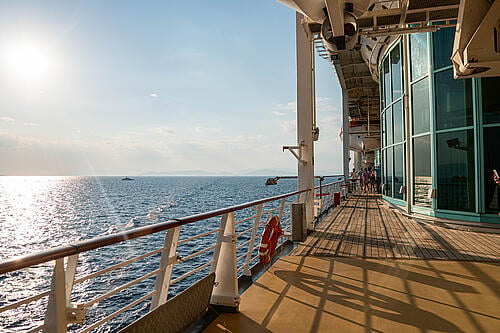 There was live music and a headlining show scheduled for tonight, but my siblings and I decided to hang out on the pool deck instead for one of the most beautiful sunsets. that I have seen at sea.
Tomorrow we are in our first stopover: Mykonos, Greece! Be sure to follow this week's live blog for inspiration and advice on cruising the Mediterranean.