Scott Spradley is a longtime resident of Flagler Beach, a photographer who has been documenting cityscapes and sunrises daily for years, and an attorney. It remains on Barrier Island for the duration of the storm and contributes to a running account of Hurricane Ian's local impacts as they develop.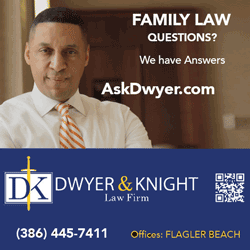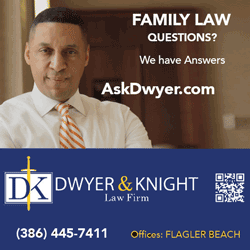 Wednesday, 8:25 p.m.– It is nearly dark on the first full day of Hurricane Ian's effect. Notably, Ian is now an onshore storm, as it continues its northeast journey toward Flagler Beach. At the time of this writing, the exact time of the storm's ultimate arrival, or its strength when it arrives, is unknown.
I just left South 23rd Street beach, however, I'm here to tell you that the tropical winds driven by Ian are here. I recorded gusts of 42 mph and the sustained winds weren't much below sea level. Also the ocean is in full storm mode as it's impossible to discern a wave having a shape lasting longer than a second or two.
Back here at home, the tall pines in my neighborhood shelter me from the force of the winds I've experienced on the beach, even though I'm only a few blocks from the sand. Currently there is a sustained wind of 21 miles per hour, with gusts not much more than that. It's amazing what a few big trees can do if they're in the right place.
I'm here to report a few developments: Storm erosion is pronounced on the beach, even though the tropical winds arrived just hours ago. As you can see in the photo above, the ocean has sculpted the sand into a series of sharp-edged ledges, turning the beach into a split-level affair, at least for now. I look forward to seeing and then reporting the condition of the beach at dawn on Thursday, which will mark a full 24 hours since the effects of Hurricane Ian began here.
In addition to beach erosion, the water level in the canal behind my house, and in turn, the water level of the Intracoastal Waterway, is rising. I was admittedly disappointed when the level after high tide this afternoon continued to rise, instead of falling as I had hoped. The scenario is eerily similar to the one that preceded Hurricane Irma in 2017, which we all know was a disaster for many Flagler Beach homeowners and renters near ICW at the time.
As for me, my house (which I bought a few months earlier) was the only house on my street that was not flooded, but it was close. I spent the day after Irma touring the neighborhood in my kayak (see before and during photos below). I hope a repeat of this does not await me.
By dawn tomorrow, we should have some idea of ​​the flooding potential there will be at the hands of Hurricane Ian. Since high tide on the ICW in our area is at 4:01 a.m. tomorrow, I will be up early and report shortly after. Until there…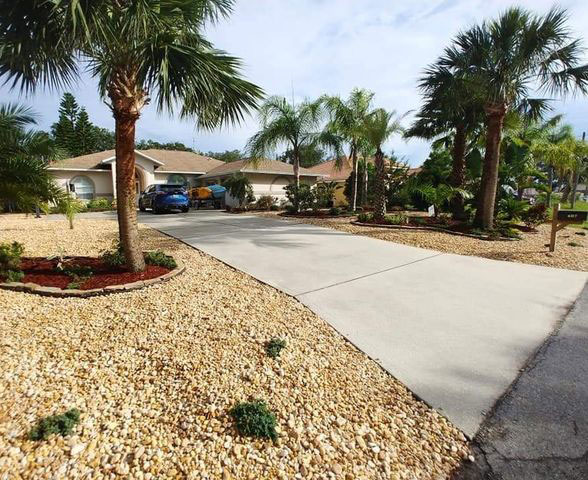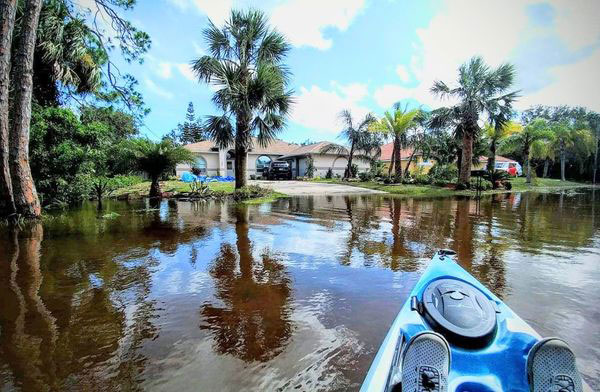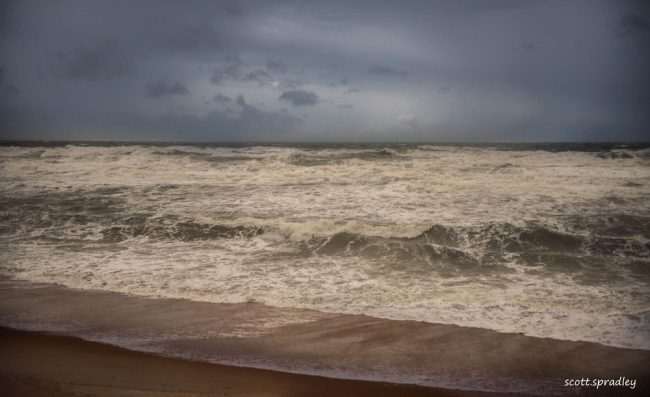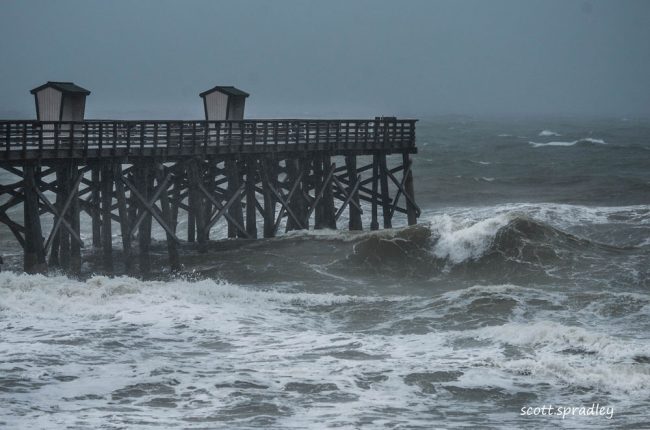 First churns
Wednesday, 3:35 p.m.– Even though Hurricane Ian is 2 full days away from Flagler Beach, his calling card has arrived. Since the end of the morning, the bands of rain have been more and more present. The wind speed increases steadily, and with it, the gusts increase. As I write this, current sustained winds are 22 miles per hour, with one or two gusts recorded to 33 miles per hour. My method of measuring weather conditions is a personal weather station at my home.
The wind instruments are on the roof, and the instruments measuring precipitation, barometric pressure, humidity and solar radiation are located on my dock. Raw data from both sets of instruments is transmitted wirelessly to a console at my house, connected to my PC. From there, the data is processed and uploaded to the National Weather Service, Wunderground.com, WeatherBug, and a few other places. Here is a link to the weather station, known as South Flagler Beach Station, KFLFLAGL24: https://www.wunderground.com/dashboard/pws/KFLFLAGL24. Do not hesitate to follow the approach of the storm, its arrival and its departure.
Since my last post, I visited my law office on South 5th Street, after which I drove across the A1A to check the surf conditions at Flagler Beach Pier. The surf is definitely rougher than it was this morning. A peek into a washing machine in the suds cycle comes to mind. While monitoring the choppy waves, I also took some images of the beach itself so I could do a before and after comparison of Hurricane Ian's landfall and departure.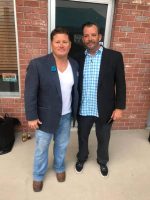 Finally, I would be remiss if I did not comment on the silver lining of the dark cloud, so to speak, as the community prepares for Ian to make his full presence here. That silver lining is the proactive residents who bend over backwards to help those of us in need in times of trouble, which a hurricane definitely is. None are more visible than local businessmen Scott Fox and Paul Chestnut, both colleagues and good friends of mine who showed up at my house with a full team and a truck full of sandbags, to help me making final preparations for the hurricane. These guys have made a name for themselves in previous hurricanes at Flagler Beach with countless days spent volunteering their time and energy so others can get through it. Yesterday, today and tomorrow, Scott and Paul continue their trek through the city, delivering sandbags and doing whatever is asked of them to help other residents prepare. Well done men. With that, I prepare for another trip to the beach to check and then report current and developing conditions.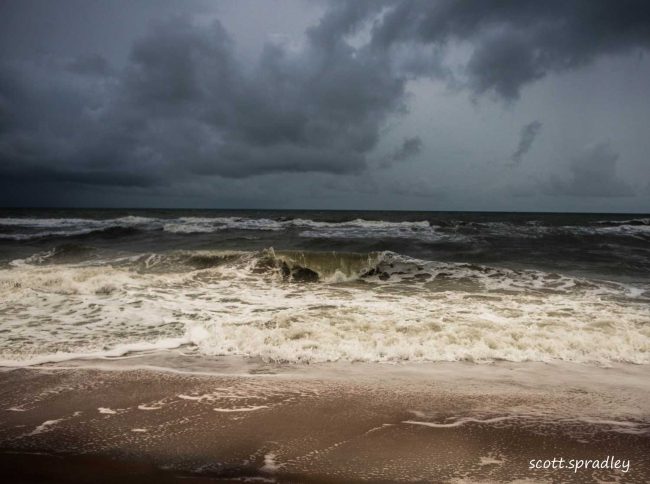 Wednesday, 11:50 a.m.–This morning started like every morning in South Flagler Beach. I was on the beach before dawn, enjoying the serenity of the moment and waiting for a photo shoot with Mother Nature. Due to the effects preceding Hurricane Ian's arrival in a few days, the sun did not participate in the visible sunrise. But I captured an image of the bubbling ocean when Ian's first effects hit.
Over the next few days, I will document the arrival of Hurricane Ian with my story, with my photos, with weather data from the personal weather station at my home in South Flagler Beach, and with drone photography and video. of the region after the departure of Hurricane Ian.
I will also document beach erosion at South 23rd Street, which is my destination each morning. I hope the drone photos will suggest minimal damage and disruption to the neighborhood and surrounding area. More soon.