By Tracy Records
White Center Now Editor
Thursday night's biggest news North Highline Unincorporated Area Council meeting was also the shortest item on the agenda. This is how the night began:
16TH SW RECHANELIZATION PROJECT: Months after a hint that something was in the works for the 16th SW, the proposal was unveiled. Broch Bender of King County started the meeting simply to say that 16th SW is proposed for recanalization between 100th and 107th, and a postcard will soon be sent to residents and businesses within half a mile of the area of the project.
As stated on the leaflet, they ask for your opinions on two options – with or without cycle lanes. In both options, general traffic lanes will be reduced from two in each direction to one in each direction, and parking will be added on at least one side of the road. Here they are in sectional view.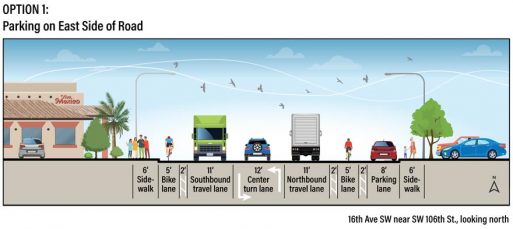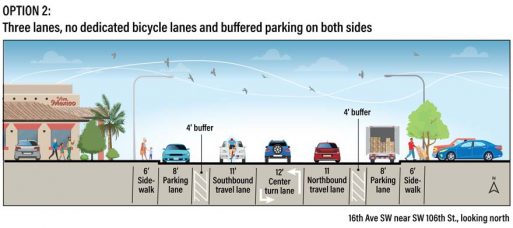 You can tell King County what you think via this survey. The project's website has even more details – including, at the bottom, the project's budget (about $1 million) and a construction schedule – 2024.
Also at the NHUAC meeting:
ENVIRONMENT: Nicole Sanders had three environmental/sustainability topics to discuss – proposed rebates for charging electric vehicles installed in affordable housing, for starters. She said some have argued it's not necessary, but within a few years the price of electric vehicles should match gas, among other reasons. There is currently no funding set aside for these possible refunds, but that could change.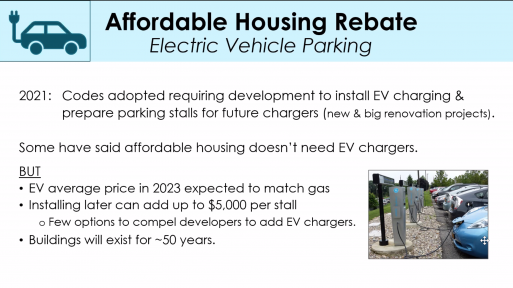 Second, greenhouse gas mitigation – if that should be necessary. State legislation could anticipate local action, so they advise the county council not to pursue any specific local legislation at this time.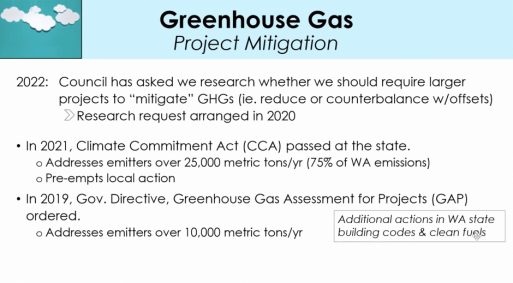 Third, find out if the "new fossil fuel installations" have sufficient financial cover – insurance, etc. to cover possible impacts, including pollution and disasters. Three types of facilities can be built in unincorporated King County.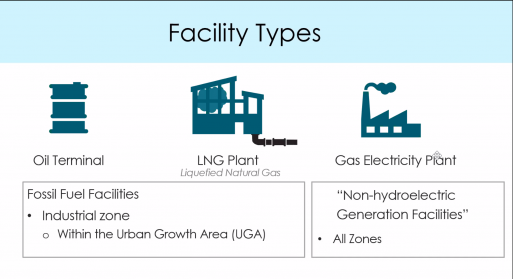 Sanders looked at where these types of facilities can go and what the requirements are. She showed where there is industrial land in North Highline that could allow for these types of facilities, but also said the likelihood of any proposal/construction seems low. Next, she showed the risks and possible reasons for financial hedging needs. Here's the timeline for possible legislation – expect a public comment period to begin in late March.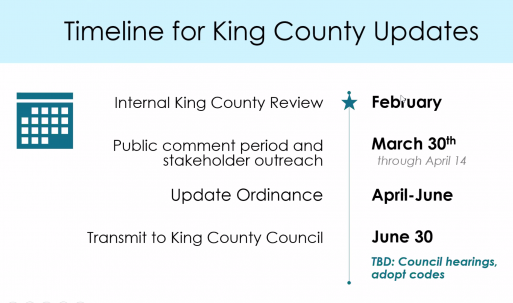 If you have a question: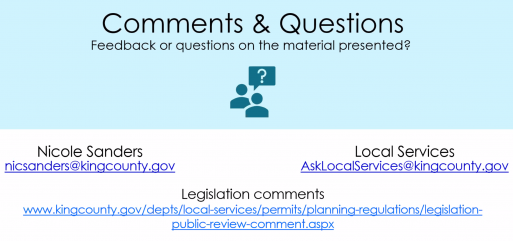 No, it's not coming in anticipation of any of those types of proposals — but they just want to be ready, county officials said, in case one ever emerges.
MAP OF THE NORTH HIGHLINE SUBZONE: Jacqueline Reid returned to NHUAC with an update. They are currently reviewing all public comments received last fall, with a revised draft policy at the end of March. Here are some of the topics that were raised: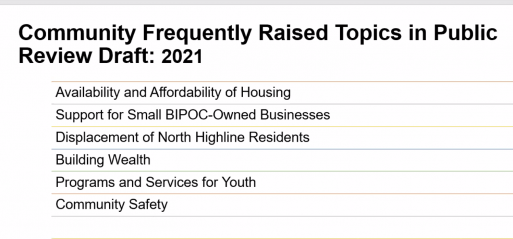 Planned zoning is in the yellowed areas on this unofficial map: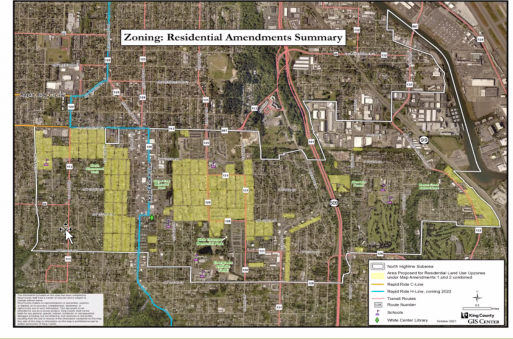 Reid showed where residential zoning currently allows 6 units per acre and would be reclassified to 12 per acre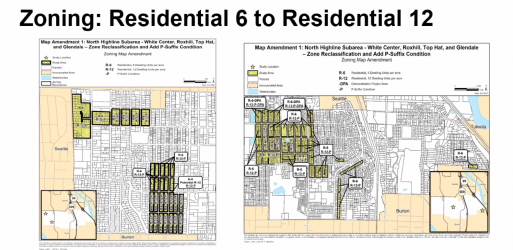 The height limits would remain the same – 35 feet. This reclassification could eventually add more than 1,000 units. There is also a proposal to increase some areas even more – up to 18 or 24 units per acre: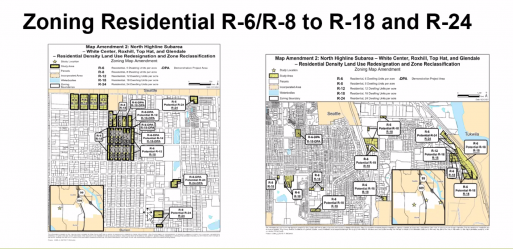 R-24 would have a height limit of 60 feet. Questions have been asked about some neighborhoods that are now zoned R-6 suddenly moving to R-24 – "is there a progression discussion" to cover the transition? "It looks like a huge upswing zone… with no transition." Concerns have also been raised about the lack of services and infrastructure in some of the areas proposed for zoning. One participant worried that North Highline was being targeted for more than its share of growth; Reid said that was not the case.
Ultimately, it was pointed out that the state sets the numbers that local areas are expected to absorb, which means their comprehensive plans must show how they will do it. Not planning for growth is not an option. Funding could be withheld, to begin with.
FIREWORKS BAN: director of local services John Taylor was there to talk about the new fireworks law. It starts this year. Public exhibitions are still permitted with permits.
They are considering other non-police enforcement methods for year two and beyond (year one is for warnings). This would include people reporting fireworks violators, with citations to be sent to them through the application of the code, rather than sending an enforcer.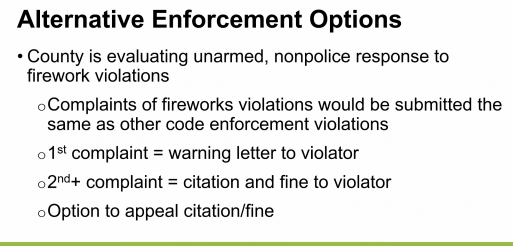 Questions included, how could you cite someone in the mail if they are illegally shooting fireworks somewhere other than their home? The discussion included plans for education to ensure everyone knows that fireworks are now illegal.
EX-TARADISE COFFEE: NHUAC Liz Giba says there are concerns that work is being carried out there without a permit. Taylor said he would look into the matter. A state Liquor and Cannabis Authority The rep said the new owner has received conditional liquor license approval and apparently hopes to open in a few months. (We reported the new owner two months ago.)
TOWN HALL OF THE UNINCORPORATED AREA: This year it's going to focus on listing community needs, Taylor said – reviewing what they've heard and prioritizing them, so the needs can be used in priorities for the next budget biennium.
CRIME UPDATES; From Deputy Bill Kennamer – gun crimes have more than doubled, and MPs are disappointed that when they arrest people, "they get out of jail very quickly". He mentioned this week's proposal that even fewer suspects would be allowed to be booked. The county executive's office has funded an additional 33 hours each week — almost a full deputy, as it put it — to crack down on crime in the center.
When asked if the crime was getting more and more violent, Deputy Kennamer answered absolutely and referred to various incidents including a brazen robbery in which someone was whipped with a gun.
OTHER UPDATES/ANNOUNCEMENTS: LCB Rep Says Unidentified Convenience Store at White Center Caught Selling Alcohol to Minors Four Times and Lost His License; it's been since it was sold to a new owner who is getting a fresh start.
Darlene Sellers of King County Parks said the teens had a new job launch program coming up — they voted for cosmetology and salon professionals to attend next Thursday. (We'll have a separate announcement about that tomorrow.)
NEXT NHUAC MEETING: 7 p.m. March 3, online.

You can track responses to this entry via the RSS 2.0 to feed.You can skip to the end and leave a response. Ping is currently not allowed.